Production Tomato paste aseptic brix 36.38 with garlic flavor is done in our company. As you know, paste is used in most foods, and there is tomato paste in everyone's home, because it makes it colorful and also makes the food taste great. There are many factories in the world that make paste, but natural tomato paste has a more colorful color and a more sour and delicious taste. The taste and color of the paste depends on the tomatoes. Which are used in making paste, if the used tomato is spoiled, it will make the paste bitter.
Review of Tomato Paste Brix 36.38 with Garlic Flavor
The use of garlic as a preservative in the tomato paste industry: Recent research has shown that garlic, one of the oldest medicinal plants, has significant antimicrobial properties. In the present study, the effect of garlic as a preservative in tomato paste has been investigated. Tomato products, including tomato paste with a pH of 4.3, are in the group of acidic foods. Therefore, the indicator of commercial sterilization for this food is the killing of Bacillus coagulans. Fresh garlic and garlic chloroform extract were somehow added to TSB (Trypticase Soy Broth) and tomato paste. The following concentration series were obtained in terms of volume percentage: 0.3, 2.5, 0.2, 1.5, 0 / 1, 0.75, 0.5, 0.25, 125. Then, microbial suspension with a final concentration of 106 × 1 microorganism per milliliter was added to the containers containing the above substances.
After heating for 24 hours at 37 ° C, the above materials were cultured in plates containing NA (Nutrient Agar) culture. The prepared plates were incubated at 37 ° C for 24 hours. The results were visible in the form of growth or non-growth of colonies in the solid culture medium and were compared with control samples. The minimum inhibitory concentration (MIC) for fresh garlic and chloroform extract of garlic in tomato paste were: 3% and / / 5, respectively. Percent. In this study, the effect of fresh garlic and garlic chloroform extract on chemical and physical properties and taste of tomato paste was investigated. Fresh garlic and garlic chloroform extract with minimal inhibitory concentrations had no significant effect on the chemical and physical properties of tomato paste, but the change in the taste of tomato paste was considered desirable or undesirable depending on personal taste.
Evaluating the product life cycle of tomato paste
Agriculture, food industry and environment can not be considered separately due to their interaction. The present study examines and evaluates the production process of tomato paste using an integrated approach and using life cycle assessment. The three stages of tomato production on the farm, transportation of the crop from the farm to the factory and production of paste in the factory were examined and the system boundary included all activities related to production, transportation and consumption of various inputs used in tomato paste production (from raw material Primary to factory door paste production). The required data were collected from one of the paste factories in Alborz province and the farms . The carbon effect index was used to quantify the effect of greenhouse gases. Two operational units of kg equivalent of carbon dioxide per kg of tomato and tomato paste were used.
The results showed that in order to produce one kilogram of tomato paste, about 3.02 kilograms of carbon dioxide is produced and the largest share belongs to the agricultural sector (28%). The average carbon effect in the tomato growing process was 0.22 kg of carbon dioxide equivalent per kg of tomato. Electricity input (irrigation) and then chemical fertilizers accounted for the largest share of field pollution. Comparison of two provinces and two irrigation systems (modern and traditional) in tomato cultivation indicated production with less carbon effect in drip irrigation system in Alborz province. Irrigation and fertilizer input were introduced as critical points in the carbon effect index. Field integration for better management and the use of drip irrigation are the results of the present study, which reduces the carbon footprint.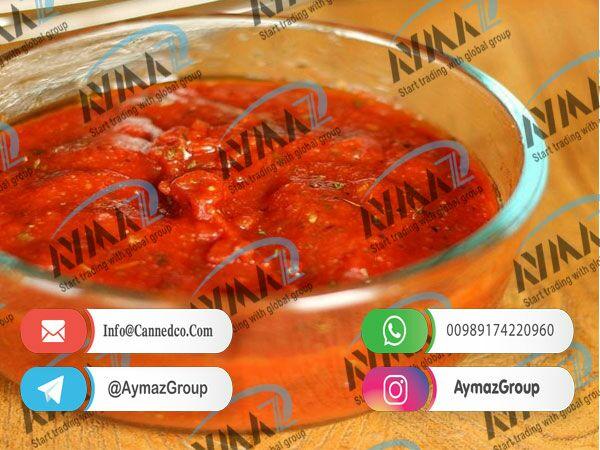 Production tomato paste aseptic
The Production tomato paste aseptic will be based on quality. It is natural that high quality tomato paste has a high price. As a result, you will eat as much as you pay. Aymaz produces in cans and glass.
But other products of this brand are ready to be loaded for stores. Wholesale sales of different brands of tomato paste at this border are based on final orders. And we offer the balance before the full settlement of your service.